This stone resembles gold and carries Solar energies. It is a powerful grounding stone. Golden Iron pyrite works with the Solar Plexus chakra and serves as a booser of energy. In combination with other stones it can raise their powers to the extreme. It is a good stone to use when we want to manifest our desire into the physical or to prevent nightmares. I will describe it with a few words : Power, Manifestation, Sun, Success.
Here is more about this amazing stone, photo and information  thanks to
https://www.healing-crystals-for-you.com/iron-pyrite.html
For Energy Strength And Vitality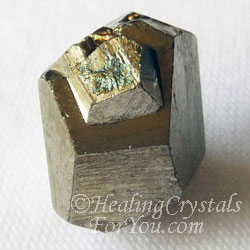 Natural Cubic Pyrite
Iron Pyrite is a strong stone to promote positive thinking and manifestation.
This is a stone to encourage you overcome feelings of inadequacy and live your life to its full potential. It will boost self worth of the individual and allow you to have the energy to take action, where needed.
This golden stone primarily helps the chakra that boosts personal power, known as the solar plexus.
It has a strong solar energy, and its golden color is part of this vibration.
This stone also has a strong spiritual grounding action, and this makes it a stone to use within both the base or root chakra and the earth star chakra.
It is beneficial for the lungs, and helps asthma and bronchitis, and will increase your stamina. It will confer a speedy increase in strength and vigor.
The solar energy within these stones enhances your efficiency at manifesting your strongest desires. Soon after you begin using it, you will feel a growth in your level of energy.