This Week's Tarot Card Reading: The Hierophant
Your weekly Tarot card advice for August 6-12, 2018
The Hierophant is concerned with rules and traditions, which, depending on the situation, can be seen as helpful or hindering. There are two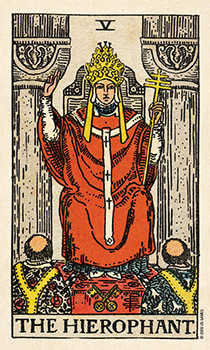 ways I can see to interpret this card in relation to this month's theme of the reversed Emperor. Think about how these possible interpretations might connect to your life this week and follow suit with your actions.
One possible take on The Hierophant and the reversed Emperor is that obsessing over the rules can lead to further rigidity. If the Emperor energy is pushing you to want control over everything and everyone right now, The Hierophant might be a warning that an inflexible attitude will make it more difficult to get things accomplished this week. Consider how bending the rules a bit or compromising with others could help you move forward in projects and relationships.
On the other hand, The Hierophant's call for structure might be a helpful force this week to offset the reversed Emperor energy. It suggests that now is not a great time to be reinventing processes, as your energy may be too emotional and wild. Having some predetermined plans and procedures to follow can help you get things done smoothly. Rules and structure are meant to keep chaos at bay and following a system can give you the sense of stability you are craving. Additionally, having a system for doing things makes you more likely to treat people equally and fairly, so flares in your emotions are not able to dictate your behavior quite so much. If your expectations of others are clearly delineated, they are more likely to respond in a way that gives you what you are looking for.
Tarot.com is Part of the Daily Insight Group ©2018