This powerful green stone carries the vibrations of Love and the Blessings of the Goddess. It is strongly connected with Nature and growth and has a connection with fairy realms and magic.
Here is more about this enchanting stone and a photo I share with you thanks to
https://www.healing-crystals-for-you.com/emerald-stones.html
Emit the Green Ray Of Nature Itself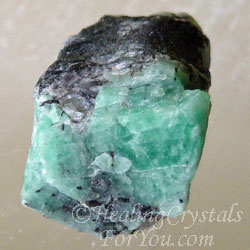 Natural Emerald Stone
 This heart chakra based energy makes them known as a stone of successful and abundant love.
By helping you to let go of negativity, natural Emerald crystals will create positive actions and outcomes, and give you the strength to overcome any problems in your life.
Within all of nature, in the plants and the grass and the trees you can see this clear green color, and the energy of the green ray.
The energy of nature itself is embodied within stones that carry the green ray, like Emerald stones. These beautiful crystals emit the green ray, a vibration that will open the heart chakra and draw love into your life.
This lovely stone has many excellent qualities, which is why it was chosen to be a May birthstone and is commonly used in engagement rings, as it has a strong loving vibration.
They are stones of manifestation, and although today's society seems to concentrate on the attributes of manifesting things, including money, this stone brings through much more.
If you desire to use this stone to help you to manifest loving attributes, good health and a peaceful, loving and harmonious existence, or to learn how to stay happy, you might like to have this stone in your life.
Of course it will manifest abundance as well as money, and you all know that of course money is necessary in life.
The green ray is embodied within these lovely stones, and it encourages you to have respect for all life and all of creation.
As you feel this respect within you, it may prompt you to live life in a more loving way.
You may find that your love and emotions begin to resonate with Divine Love.
This is the purest and highest form of love in existence, and you begin living your life from a spiritual, heart based perspective.
Feelings such as compassion, hope, loyalty, encouragement, reassurance, gentleness, kindness, goodness and of course unconditional love, are connected with these emotions, and with all the blessings that are in your life.
 I love emerald gemstones and wear one in my engagement ring every day, but for their metaphysical attributes to benefit you don't need an expensive stone.
All Emerald stones, including rough or natural pieces like the ones shown here, emit this energy and have an effect on the emotions that are within you.
It will still give you the powerful metaphysical properties that are embodied in this stone but at a lower cost.
Read the original article here