This is a powerful stone that helps you to release fear and anxiety and aids harmony and balance.
It stimulates taking action, and helps you to make decisions with discernment and understanding, and unclouded by your emotions.
Traditionally it was carried as an amulet against curses or ill-wishing, and is known to give you courage, self confidence and strength of will.
It enhances creativity and is one of the stones that aid kundalini awakening.
This natural crystal balances the brain, so it may be of benefit to help those who are suffering from mental disease or with personality disorders.
Stimulates Psychic Gifts…
If you are an earthy person, and vibrate to the energy of the solar plexus, also known as the power chakra, you may find that this stone aids you to bring through a variety of psychic gifts.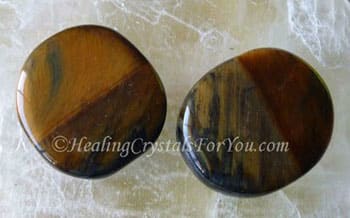 Tigers Eye Palmstones
It is as simple as keeping the stone within your aura, so it will be of benefit to you. It is the balance within the stone that is its most practical attribute.
It may aid you if you are earthy to develop your psychic powers when used at the third eye chakra, but it is not generally a third eye chakra stone.
It is an effective stone to assist you to accomplish goals. If you are prone to criticizing your own actions, you may be experiencing a lack of self worth.
This stone may help you, as it will infuse you with confidence, brightness and optimism that may relieve these feelings of lack.
Read the whole article here to learn about how you can combine tiger eye with other stones for specific purposes
The above material and the photo is thanks to
https://www.healing-crystals-for-you.com/tigers-eye-stone.html